Events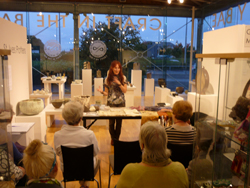 Events exclusive to the Friends of The Makers Guild in Wales
We run quarterly, free social craft educational events instigated and supported by our 'Friends'.
These events allow you to meet our co-operative of craft makers and find out more about their work, inspirations and achievements. Non-members are welcome to attend these events. Our 'Meet the Maker' events are all held here at Craft in the Bay
Not a Friend yet? Find out more about the Friends of the Guild and how to join.
All our 'Meet the Maker' events take place at Craft in the Bay, booking is not essential, just turn up on the day. This email address is being protected from spambots. You need JavaScript enabled to view it. if you have any queries